When it comes to energy efficiency and sustainability, electric vehicles offer great advantages over traditional fossil-fueled vehicles. However, even electric vehicles are not 100 percent environmentally friendly because many of the components used are not recyclable. At the end of the vehicle's life cycle, these components end up in landfills – especially the magnets that drive them.
The eMOTOR Virtual Testbed aims to solve this problem. It is an innovation project supported by EIT Manufacturing, EIT Digital and EIT RawMaterials and carried out by the collaboration of enterprises, universities and research centers such as Reply, Mondragon University, Magneti Ljubljana, Politecnico di Torino, CIM4.0 Competence Center and Dayco.
The goal of the testbed is to test the performance of an electric motor redesigned from an environmentally sustainable perspective and implement a digital platform by incorporating a digital twin. End users will then be able to compare the characteristics of an electric motor redesigned with recycled materials with those of a new motor.
The data being analysed will range from technical performance, life cycle assessment of the end product to circular manufacturing processes. The testbed will also contain rapid motor redesign tools to consider the specifications of recycled components, their manufacturing processes, and how the long-term performance may be affected by the use of recycled motor parts.
The recycling of magnets makes it possible to significantly reduce dependence on non-EU suppliers in the production of magnets and beyond.
This is an important step towards automotive SMEs, engine suppliers and component manufacturers throughout the supply chain who will have a range of high-tech services at their disposal.
Successful testbed demonstration in Turin
On 19 and 20 September, the project team met at the testbed site in Turin to discuss the latest developments and get a first demonstration of the eMOTOR-VTB testbed. As four of the nine project partners are based in the Italian region, the meetings took place at the offices and laboratories of Reply, Dayco, CIM4.0 Competence Center and Politecnico di Torino.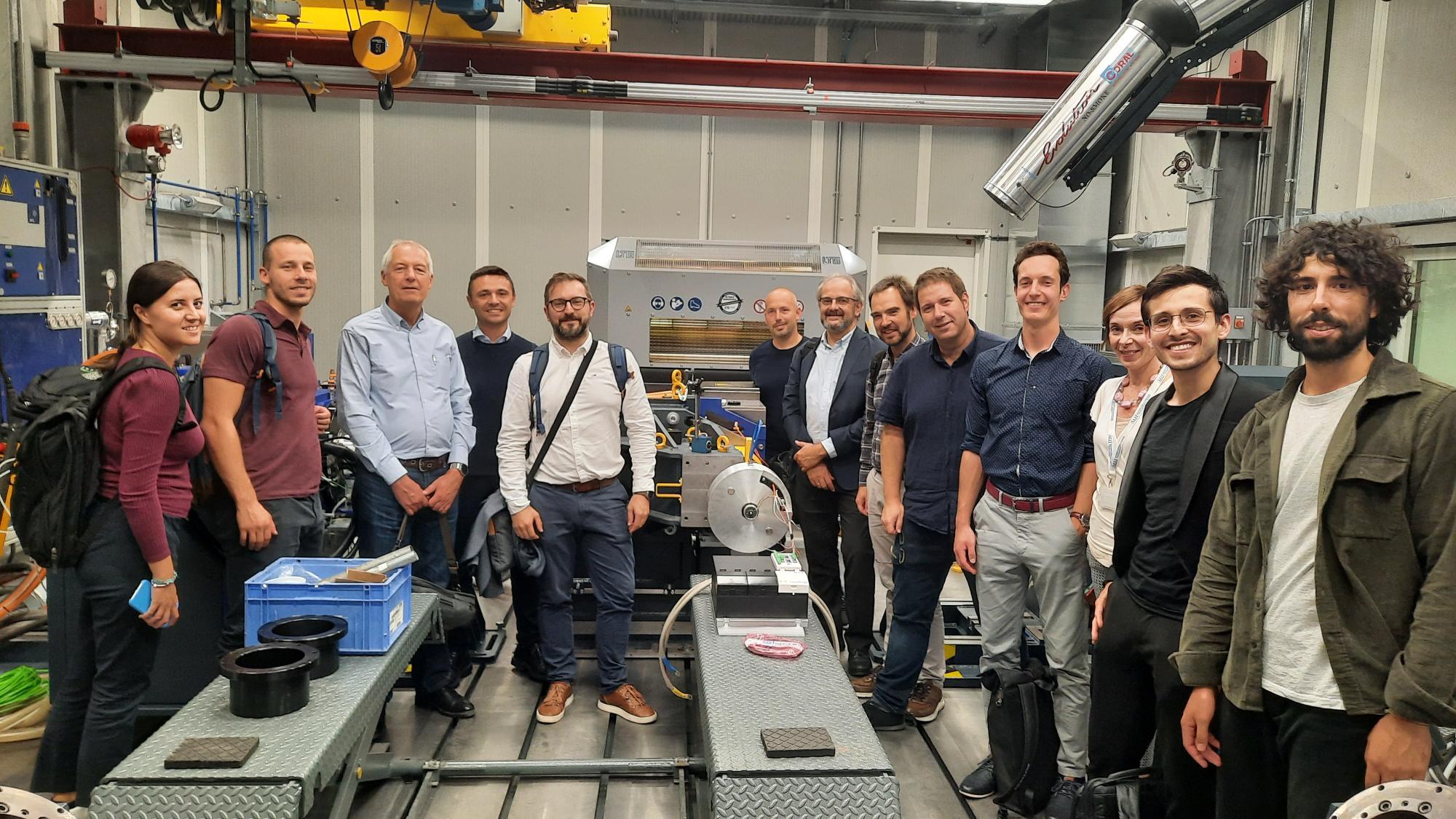 After inspiring discussions at the offices of project leader Reply, the team was able to get a close-up look at an electric motor on the Dayco production line – the same one provided for the development of the physical testbed at Politecnico di Torino, where the recycled magnets are redesigned and installed.
The Digital Factory Pilot Line of CIM4.0 was all about digital enabling technologies for Industry 4.0 and the many use cases. In addition, the virtual eMOTOR-VTB testbed (digital twin) will be located here in the future. In the labs of the Politecnico di Torino, the team got deeper insights into the physical testbed as well as into the necessary tests and simulations to create a digital twin.
The language of the green economy is universal and this project confirms the key role of players who believe in the digital and sustainable revolution and want to make it accessible to SMEs. eMOTOR-VTB is an initiative that confirms the importance of sustainable manufacturing that is willing to reduce energy and valuable resource utilization and increase products' quality and performances at the same time.

Maurizio Griva - Innovation Manager at Concept Reply